We've been providing outstanding insurance solutions since 1922.
Why an insurance broker is your best option.
We work for clients just like you.
As a family-run independent insurance broker, McLean & Dickey works for you, the client, and not for the insurance company, enabling us to give you unbiased advice on your insurance options. 
We have access to a broad range of top-name insurers, allowing us to find you the best coverage at the most comprehensive price. Our goal is to get you the best insurance coverage possible so that in the event of a claim, you are well protected.
Why choose mclean & dickey?
We've been in business since 1922. We have decades of experience dealing with insurance companies and their claims departments. This combined knowledge and expertise our team brings to the service we provide our clients is second to none. Even more, we invest heavily in the continued education and training of our entire team, so that you'll always have the advantage of industry-leading information. 
We're local and here when you need us.
As Orillia's only locally owned and operated insurance broker, we live and work in the communities we serve. Whether you're in Barrie, Midland, Orillia or one of our surrounding communities, chances are that one of us is your neighbour.  We're always here to answer all your questions whether in person, by phone or by email. It's your choice. 
Have to make a claim? We're here to help. We'll answer your questions, listen to your concerns and support you during the claims process. And, we're always here to advocate on your behalf.
95% of our clients come back to us year after year because of the confidence they have in our insurance professionals.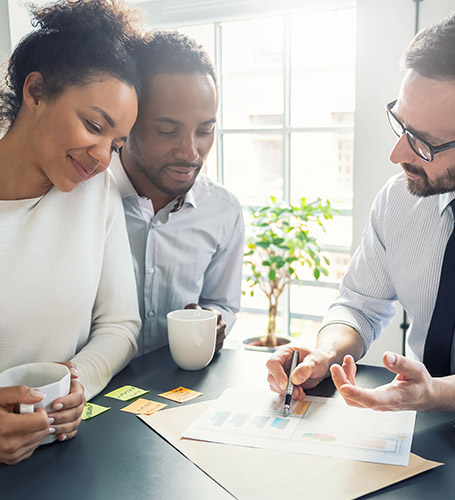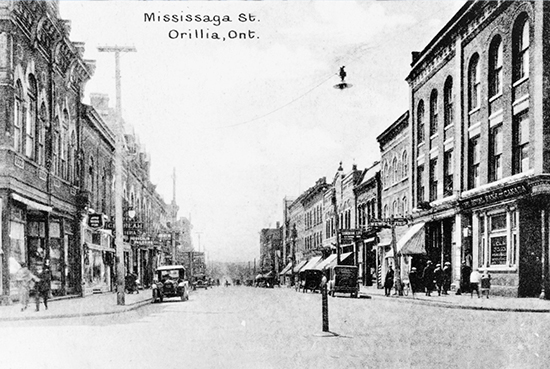 We're Orillia's only locally owned and operated insurance brokerage.
When George McLean Sr. started selling insurance in 1922, there were only a handful of cars in the area and most of the roads were unpaved. McLean, a former lumberjack, philosophy student and soldier, served as Mayor of Orillia in 1924 and later, federal member of parliament. His son, George Jr., who joined the firm in 1948, bought his father out two years later and brought in partner Marwood "Dick" Dickey shortly after. Over the years, McLean & Dickey developed a reputation for knowing their customers' needs and providing exceptional personal service. 
Fast forward to today and McLean & Dickey is Orillia's leading insurance company. While many things have changed since the company was founded, our reputation for understanding and serving our clients' needs remains at the forefront of everything we do.
Celebrating 100 years in the community
In 2022, McLean & Dickey turned 100 years old. Find out more about our history in Orillia and watch the video about our history. 
Discover how rewarding a career in the insurance industry can be.
Renovating for the future.
McLean & Dickey leverages green initiatives for its newly retrofitted building.
Vacant Store gets a new lease on life
After years of searching for the perfect location for its expansion, McLean & Dickey purchased a former Goodwill store that had been empty for four years and transformed it into spectacular office space designed to accommodate our growing team.
The complete retrofit involved gutting the space down to its exterior walls, adding spray foam insulation and upgraded double-glazed windows. New offices have glass walls to let in natural light and the roof sports skylights to further illuminate the interior.
But it's the fully upgraded HVAC system and high efficiency LED lighting that really helped to reduce our carbon footprint while saving on energy costs. 
In 2022, the Orillia & District Chamber of Commerce recognized the community impact of our renovation by presenting McLean & Dickey with a Site Enhancement Award.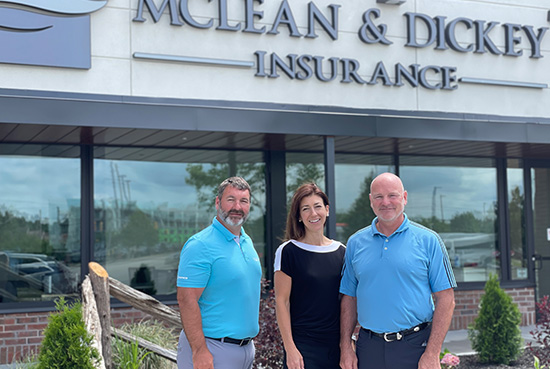 Relax. We'll find you the best insurance coverage so you're protected.
Together we're giving back.
Find out about how we're helping our community.