When McLean & Dickey Ltd. purchased the old Goodwill Building at 4 King Street in Orillia, we were looking for larger office space to accommodate our rapidly growing company and a means to bring our Marine Insurance division under the same roof.
The building, located across the street from the Home Hardware Building Centre and within a block of Orillia's new Recreation Centre, had been vacant since 2016 and need a major overhaul. The project quickly became an opportunity to implement several sustainable building practices while creating a dynamic workspace with opportunities for collaboration and socialization.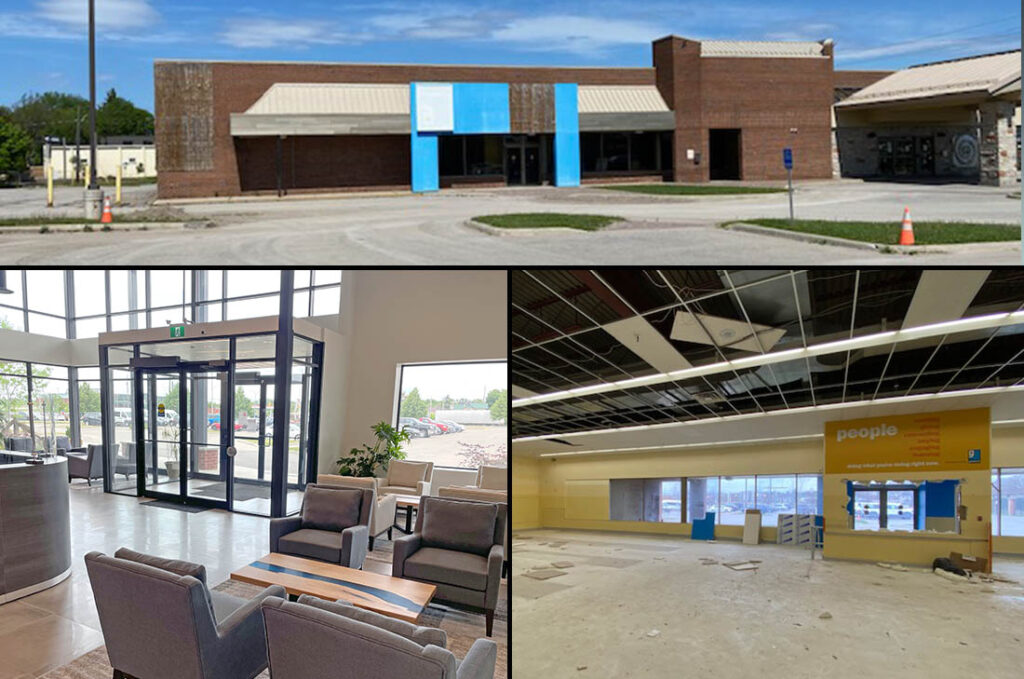 Switching to LED Lighting leads to savings
"We took advantage of the Save on Energy retrofit program, says Mike Holenski, SVP Sales and Marketing." The program offers a financial incentive to replace outdated lighting fixtures with upgraded high efficiency LED systems. "It gives us an annual savings of $4000 in energy costs," he confirms. "Though many of these retrofits are front-end loaded in terms of cost, it made sense to us to take a long-term view and do as much as possible to reduce both energy impact and maximize savings."
The existing fluorescent lighting fixtures were removed and recycled and low-energy LED lights were installed throughout the space. The lights are tied to automatic motion sensors and turn on and off as needed so that areas that aren't occupied aren't lit unnecessarily. Of course, while the automatic sensors mean even more efficiency and an upfront savings in electricity costs, they also ensure contactless control over lighting, reducing touchpoints in today's socially-distanced environment.
Using daylight to enhance the work space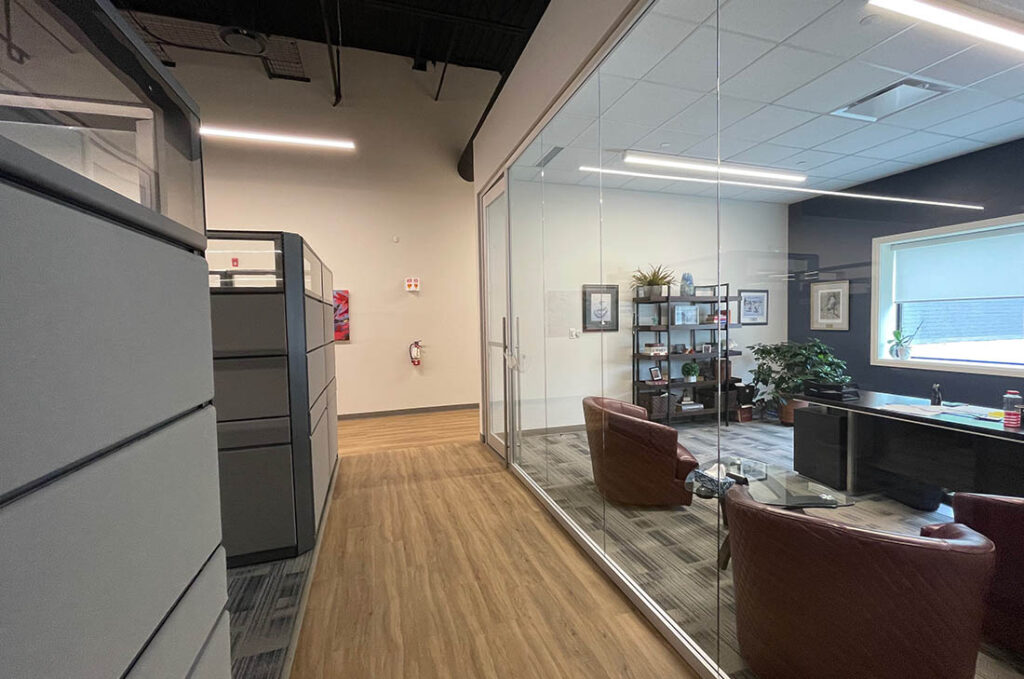 To maximize efficiency, the office space was designed to bring in as much daylight as possible. Skylights were installed over the general office area. Private offices that line the exterior walls have large picture windows and glass walls that let in even more natural light into the central space. Many employees have taken advantage of the daylight and small houseplants decorate many of the office cubicles.
Other retrofit improvements included replacing the inefficient single air-handler HVAC system with a super high efficiency zonal heating and cooling system fitted with new air filters that help to clean the air of impurities. The plumbing system was also upgraded and the building's single hot water tank was replaced with small tanks that were plumbed underneath each sink, reducing the distance that hot water has to travel to a faucet and minimizing water and energy loss. Finally, exterior walls were sprayed with foam insulation to maximize R-value and triple-glazed windows were installed.
Lots of room to collaborate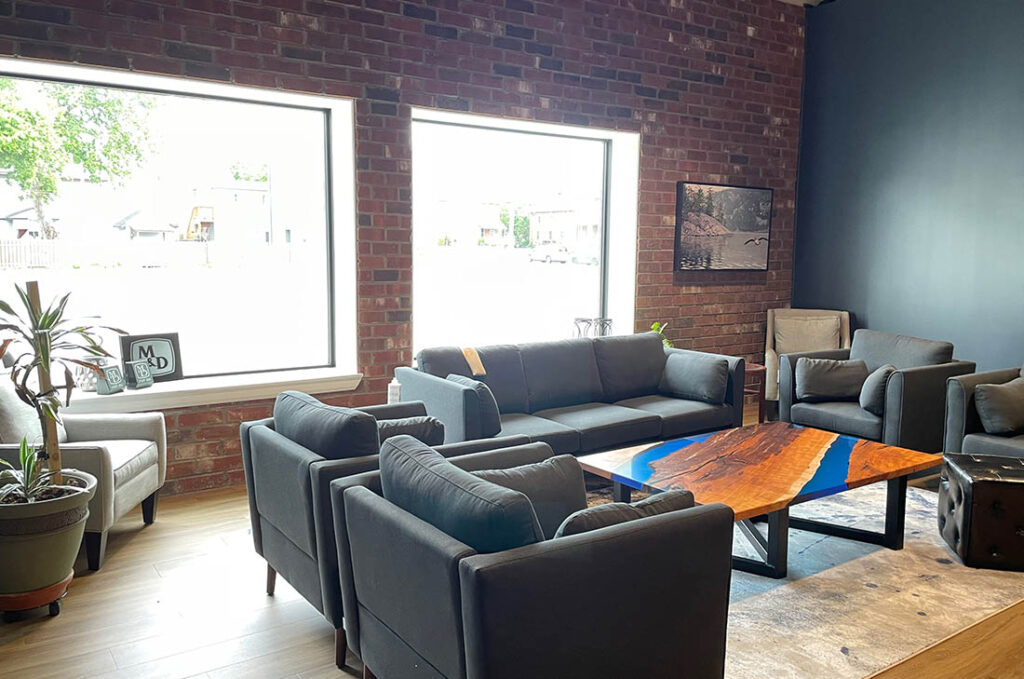 The light-filled office bears no resemblance to its previous dated look. A large open lobby area with brick wall, relaxed seating and huge windows welcomes clients. Brokers are encouraged to use several glass-walled offices adjacent to the lobby area for private client meetings. A large open-plan office is located out of view behind the public area.
Spots for relaxing and collaborating were designed into this large workspace. An attractive seating area with large picture windows, a modern gas fireplace and relaxed couches is the perfect spot to enjoy a break or discuss a project, while the open plan coffee area with café tables and stools is popular in the mornings. The employee lunchroom was designed to double as a function room. With its 72" flatscreen display and large kitchen island, it's the perfect place for events.
Downtown Tomorrow Community Improvement Plan
The 4 King Street retrofit is a catalytic project. Thanks to a $250,000 grant in the way of a tax deferment from the City of Orillia's Downtown Tomorrow Community Improvement Program, McLean & Dickey Ltd. was able to invest up to $1.5 million in renovations and improvements, beautifying and modernizing a key location in the city and paving the way for further development in the West Street corridor of downtown Orillia.